China's spy agency is cracking down on "foreign-related" weather stations, citing risks to the country's national security.
The Ministry of State Security (MSS) carried out special investigations of over 3,000 meteorological stations across more than 20 provinces, "among which hundreds of sites had been found transmitting meteorological data to overseas in real time," the agency said in a post on its official WeChat account today. More than 10 meteorological agents with foreign links were also investigated in the nationwide inspection.
According to the statement, some projects were "directly funded by foreign governments," and other observation sites were set up around sensitive places, such as military bases, industrial enterprises, and major grain-producing areas. It also noted that some of the devices were "small in size, easy to install, hard to find, and can automatically collect and transmit over the network in real time."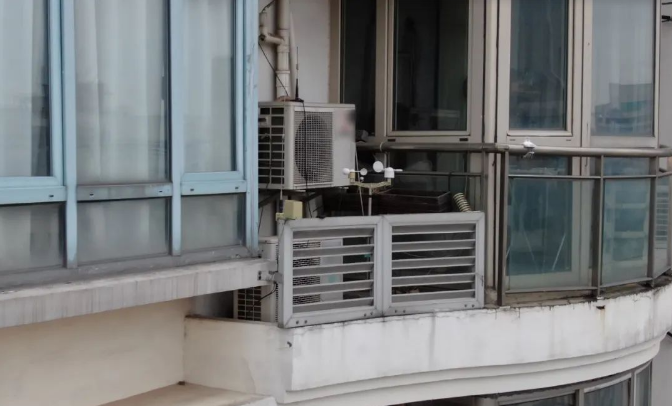 "An illegal home weather station found in a residential area in China." Caption and image via China's Ministry of National Defense.
The unidentified foreign parties did not obtain an administrative license for their activities, had not submitted the meteorological data to relevant Chinese authorities, and had transmitted the data overseas without approval — some of which violated China's administrative and security regulations, including the recently beefed-up Data Security Law.
"Meteorological data is an integral element of data security and resource security. It is closely linked to military, food, and ecological security, climate change, and public interests," the ministry's post said. "The illegal collection and cross-border transmission of meteorological data endangers China's sovereignty, security, and development interests."
Scrutinizing data flows
On September 28, the Cyberspace Administration of China (CAC) proposed easing its strict cross-border data security controls in a bid to soothe corporate jitters over the country's tightening grip on data.
The set of draft rules, titled "Provisions on Regulating and Facilitating Cross-Border Data Flows" (in Chinese, PDF in English), stated that data relating to international trade, academic collaboration, global manufacturing, and marketing activities that don't contain personal or "important" information would no longer need to undergo a security review or obtain special consent to be transferred. It was made available for public comment until October 15.
"From a research and more importantly an economics perspective…those wishing to get more access to Chinese data and really understand how that is, if China is their bread and butter, if that's what they're going to be focused on," Skip Schiphorst from I-Intelligence told The China Project in September.
Beijing has ramped up scrutiny on cross-border data flows over the past few years, as it looks to strengthen control over the vast troves of data generated by the world's second-largest economy and second-most-populous nation. In March, China announced plans to set up a new department to oversee the country's data as part of the State Council's sweeping bureaucratic makeover.
The tighter reins on data have sent chills through the international business community, as overseas firms remain wary of getting caught in the regulatory crosshairs despite Beijing's efforts to assure that it is "open" to foreign businesses.
Eyes for spies
China in recent months has also passed wide-ranging legal amendments that have fueled concern over the risks to individuals and organizations operating in the country, particularly those in sensitive industries such as journalism, technology, research, and data monitoring.
"Not only corporate researchers, but also journalists and academics in general need to be sensitized on the implications of data requests and data sharing with their Chinese counterparts, as it might put the receiver in hot waters," Schiphorst added.
On July 1, China's new revisions to its anti-espionage law took effect. The changes "expand the scope of targets of espionage, with all documents, data, materials, and articles" related to national security, though the law itself does not define what falls under national security or interests. (The full text can be found in Chinese here, and an English translation here.)
The revisions also imbue Chinese authorities with new surveillance powers. These include the ability to access people's emails or social media accounts on electronic devices, as well as impose exit bans on anyone under investigation, whether they are citizens or foreigners, if they are deemed a potential national security risk after leaving the country.
Earlier this month, Hiroshi Nishiyama, a Japanese executive of the pharmaceutical company Astellas Pharma, was formally charged in China on allegations of espionage. He had been detained in Beijing by Chinese authorities in March, a move that had shocked the Japanese business community and damaged ties between the two Asian neighbors.
Screenshot from Chéng Lěi's 成蕾 interview on her detainment in China with the Australian Broadcasting Corporation (ABC) on October 24, 2023.
A week prior, Australian journalist Chéng Lěi 成蕾, a former news anchor at Chinese state media television channel CGTN, was released after more than three years of imprisonment in China on national security charges.
"I always thought by being a business reporter I was quite safe, and I was very blasé and even boasted to other people that because I was bilingual and I knew the culture, that I knew where the red lines were," Cheng said in an October 24 interview with the Australian Broadcasting Corporation (ABC). "Turns out, I don't at all."
Another Australian citizen, Yáng Héngjūn 杨恒均, remains behind bars since January 2019 on vague espionage charges after a closed-door trial. Today, his family released a letter pleading with Australian Prime Minister Anthony Albanese to negotiate with Beijing for his release.
Meanwhile, the MSS has encouraged everyday citizens in China to be on the lookout for potential espionage ever since it opened its WeChat account, its first social media presence aimed at increasing public engagement. While the Chinese government has long encouraged its people to report any spying activities or threats to national security through perks like cash incentives, the MSS's first WeChat post on July 31 called for a "whole of society mobilization" against espionage. "The participation of the masses" should be "normalized," it stated.