Delta State-based, self-acclaimed human rights activist, Harrison Gwamnishu, has withdrawn his NGOs assistance to the mother of five whose sister, Cynthia Obi, came online to seek public help in rescuing her from her 'abusive' husband.
In the viral video, Cynthia alleged that her sister had endured several beatings from her husband for eleven years and that each time they reported the matter to the police station or an NGO, he used money to free himself.
Cynthia who was crying, shared a video of her sister's bruised face and asked for assistance (Read Here).
Moved by her cry for help, Harrison who runs Behind Bars Initiative, an NGO, mobilised his members in Abia who were able to locate the woman.
He announced that the husband had been arrested and was in custody of Divisional Police Headquarters, World Bank, Aba.
He wrote:
"As promised, we have responded to this case of Domestic Violence which happened in Abia State. The husband is now in custody of Divisional Police Headquarters, World Bank, Aba.

Thanks to Abia Team led by Ochiegbu Marvelous for their swift response. We only have active team in Delta State, Rivers State, Edo State & Abia State.

NOTE: OUR TEAM OF VOLUNTEERS OFFER THEIR SERVICES FOR FREE AND DO NOT COLLECT A FEE BEFORE ATTEND TO ANY CASE.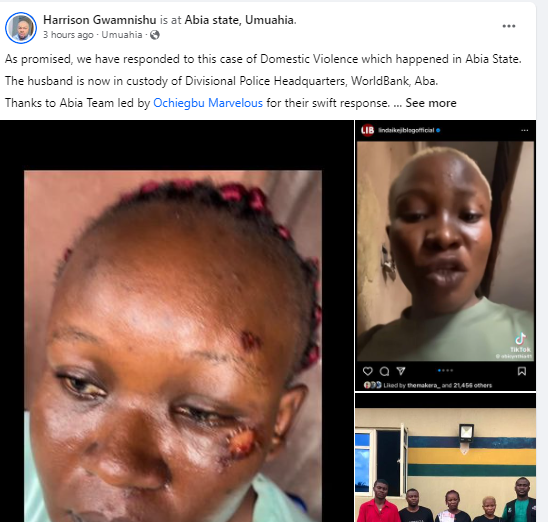 READ ALSO: Sad Story Of Mum-Of-4 Who Lost Her Life After Refusing To Walk Away From An 'Abusive Marriage' Because Of Her Little Kids 
An hour later, Harrison shared another post saying his group has withdrawn the case as the battered wife pleaded that her husband should not be detained.
He added:
"CASE WITHDRAWAL

A few hours ago the husband of this woman was arrested for assaulting her, the woman is begging that her husband should not be detained.

Our team who came all the way from Umuahia to Aba has left her with the husband. WE HEREBY WITHDRAW OUR SUPPORT, COMPLAINT against the husband and have also informed the police.

Thanks to our team led by Ochiegbu Marvelous for sacrificing their time, money and risking it to Aba.

Thank you all for the tags.

Harrison Gwamnishu."
ALSO SEE: Nigerian Mum Breaks Silence Following Claims Of Divorcing Her Husband Upon Arrival In UK