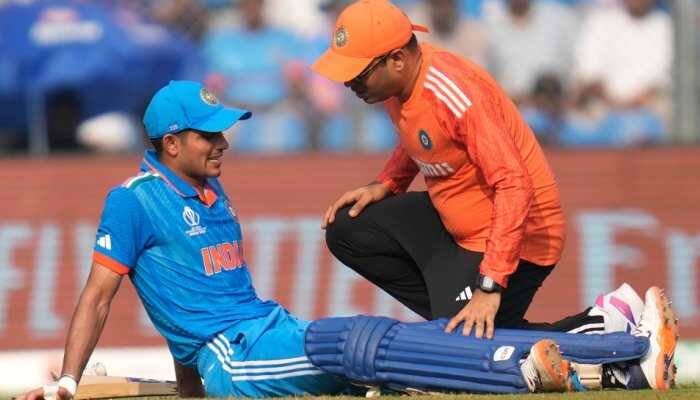 Shubman Gill gets treatment from physio in Mumbai. (Photo: AP)
Following his side's 70-run win over New Zealand in the semifinal of ICC Cricket World Cup 2023, Indian opener Shubman Gill revealed that he suffered a hamstring pull while batting, but will be okay to play in the Sunday's final at the Narendra Modi Stadium in Ahmedabad. An all-round India reached their third ODI World Cup final by beating Kiwis by 70 runs in a match marked by record breaking performances from Virat Kohli, Mohammed Shami and Shreyas Iyer.
After the match, Gill said about his fitness in press conference, "It started with cramps and I pulled my hamstring. It was humid out there and also after effects of dengue. I will be okay for finals."
On missing out on his century due to cramps, Gill said, "I could have made my century if it was not for my cramps. But still, we reached the score we wanted. We were expecting to reach around 400 runs. I do not really mind that I failed to get a century."
Talking about Daryl Mitchell-Kane Williamson partnership that pulled the Kiwis back into the match, Gill said, "We knew it was going to be challenging, especially under the lights. When the new ball gets old, it becomes difficult for bowlers to control runs. We wanted to bowl in areas where we wanted to and wait for batters to make mistakes. The partnership between Daryl Mitchell-Kane Williamson was challenging."
FINALS __ pic.twitter.com/owWUmw7kaR
— Shubman Gill (@ShubmanGill) November 15, 2023
Gill talked about batting with Virat Kohli, who scored his record 50th ODI ton, saying that he is inspired by his hunger and intensity, which is still there after so many years.
"Me and Virat talk about playing as per the situation. We have a slightly similar style. We both like rotating strike, scoring boundaries here and there to keep ourselves busy. We complement each other well," he said.
"Every time Virat comes to the field, he does something special. He has been able to do it consistently for 10-15 years and it is inspiring. For me, it is not his skill, but the hunger and intensity which inspires me more," he added.
On batting with opener Rohit Sharma, Gill joked that he only plays 15-20 balls in powerplay and watched Rohit smash fours and sixes from the other end for the most part. Gill said that it is difficult to face Shami with the new ball.
"It is difficult to face Mohammed Shami in nets and in the new ball. Once there is some help in the surface, he takes a lot of wickets. It is fun playing with Jasprit Bumrah, Mohammed Siraj and Shami in nets," said Gill.