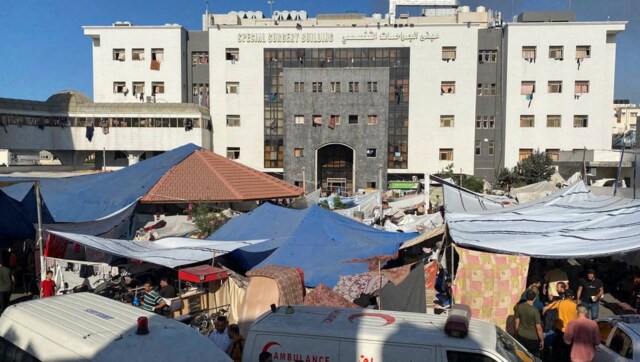 Displaced people at Al Shifa said they had come for safety, but they did not feel safe because of the approaching Israeli military and airstrikes Image Courtesy Reuters/File
Israeli troops have ordered the evacuation of doctors, patients and displaced people from Gaza's Al-Shifa Hospital "in the next hour."
Al-Shifa Hospital — Gaza's biggest healthcare facility– has become the focus of the Israel-Hamas war with the Israeli troops raiding the institution to find and destroy Hamas hideouts.
Israel claims Hamas operates a base underneath Al-Shifa, a charge the militants deny.
Related Articles
As per estimates by the United Nations, Al-Shifa Hospital shelters 2,300 patients, staff and displaced Palestinians.
Israel has made repeated calls for the hospital to be evacuated to the south, however, medical professionals say the patients cannot be moved.
Hospital director Mohammed Abu Salmiya told AFP Israeli troops instructed him to ensure "the evacuation of patients, wounded, the displaced and medical staff, and that they should move on foot towards the seafront".
Earlier this week, a senior World Health Organisation (WHO) official said that while the UN is looking at ways to evacuate the hospitals, options are limited by security and logistical constraints.
One obstacle is that the Palestinian Red Crescent lacks sufficient fuel for its ambulances within Gaza to evacuate patients, WHO regional emergencies director Rick Brennan told Reuters. There are also not enough ambulances available, a spokesperson for the International Committee of the Red Cross in Jerusalem said.
"We are looking at the case for full medical evacuation but there are a lot of security concerns, there are a lot of logistics constraints. Our options are rather limited, but we hope to have some better news in the next 24 hours or so," Brennan said.
With inputs from agencies