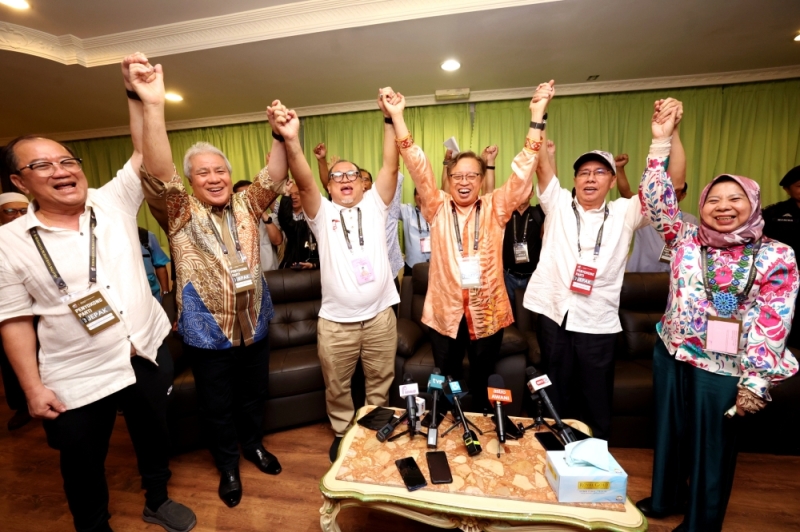 GPS chairman Tan Sri Abang Johari Openg (3rd right), Jepak candidate Iskandar Turkee (3rd left) and GPS leaders pose for picture after the announcement of the Jepak by-election result in Bintulu November 4, 2023. — Bernama pic
Join us on our WhatsApp Channel, follow us on Instagram, and receive browser alerts for the latest news you need to know.
Saturday, 04 Nov 2023 10:56 PM MYT
BINTULU, Nov 4 — The victory achieved by Gabungan Parti Sarawak (GPS), with a big majority, in the Jepak state by-election confirms the solid support of the people for the coalition.
GPS chairman Tan Sri Abang Johari Openg said GPS also obtained 88.3 per cent of the popular votes in the by-election, which it won through newcomer Iskandar Turkee.
"Of course, this is a sign that our people, especially in Jepak and Bintulu, accept the policies that we have planned and will implement," he told a media conference after the announcement of the result here today.
Advertisement
In the by-election, Iskandar obtained 9,638 votes to defeat his two challengers, Parti Bumi Kenyalang (PBK) candidate Stevenson Joseph Sumbang, who garnered 854 votes; and Parti Aspirasi Rakyat Sarawak (Aspirasi) candidate Chieng Lea Phing, who secured 431 votes.
Iskandar won with a majority of 8,784 votes, which is more than double that of the 4,243 votes garnered in the previous state election, said Abang Johari, who is also the Sarawak Premier.
"This is a clear message… democracy is not just for us to fight (contest) but we must look at the reality of what is actually happening," he said.
Advertisement
Abang Johari said young voters who are casting their votes for the first time at the state assembly level in Sarawak also contributed to GPS' big victory in the by-election.
"We won in all the voting streams, including where there were young voters, in suburban, urban and rural areas," he said.
On the low percentage of voter turnout in the by-election of 48.57 per cent, he said it was expected due to several factors, one of which was that some workers and students outside of Jepak could not return home to cast their ballots this time.
The by-election was held following the death of six-term incumbent Datuk Talib Zulpilip on September 15. — Bernama Bernama