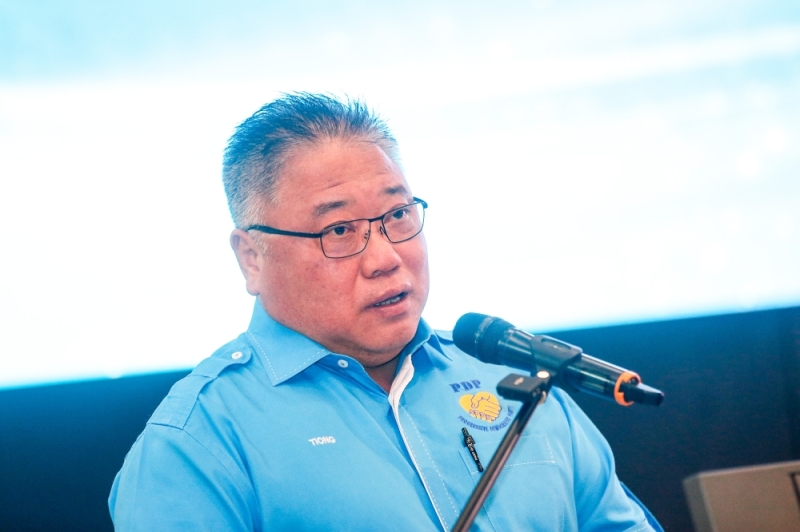 File photo of Datuk Seri Tiong King Sing in Kuala Lumpur, July 13, 2023. — Photo by Hari Anggara
Join us on our WhatsApp Channel, follow us on Instagram, and receive browser alerts for the latest news you need to know.
Saturday, 04 Nov 2023 10:03 PM MYT
KUCHING, Nov 4 — Tourism, Arts and Culture Minister Datuk Seri Tiong King Sing says he will not close himself off and be confined to narrow-minded thinking in his approach to the people, amidst comments by other politicians against him.
He believed that politicians would struggle to earn a place in the hearts of the people if they could not put aside their ego.
"Why not blend in with the people? Every time I attend events organised by the public, my hope is that everyone could do away with elaborate protocols and excessive formalities.
"As representatives of the people, we should aim to be approachable and to genuinely connect with them in order to truly understand their concerns and aspirations," he said in a Facebook post today.
Advertisement
Tiong, who is Bintulu MP, had made the post in response to former works minister Datuk Seri Mohd Zin Mohamed's act of uploading an open letter onto his X (previously Twitter) account, stating that he was appalled by Tiong defending his drunken stupor at a Gawai celebration, which was recorded and had since gone viral.
According to Tiong, Mohd Zin seemed to suggest that ministers 'are supreme beings and events where ministers are invited should be approached with great formality and stiff protocols'.
"I implore Mohd Zin to distinguish between 'celebration' and 'approachability'. Whether it's the Gawai festival or the Mid-Autumn Festival, I make an effort to immerse myself in the community, including joining the children in Pelangai (Pahang) in joyful dances.
Advertisement
"They were thrilled, expressing that it was the first time a minister of my stature had bonded with them in such a way. What's once a delightful experience is now being sensationalised by extreme individuals for political gain.
"Are we trying to broadcast to the world that Malaysia is a country overly divided and sensitive to religious matters?" said Tiong.
Tiong also criticised Mohd Zin for condemning the Sarawakian culture in his (Mohd Zin's) open letter on X, stressing that even the Premier of Sarawak Datuk Patinggi Tan Sri Abang Johari Tun Openg treasures Sarawak's multi-racial uniqueness.
"I also want to remind Mohd Zin, a former leader of Umno Selangor, that while Islam is the official religion of Malaysia, the Prime Minister has emphasised that the rights of people from various religious and cultural backgrounds are protected.
"Therefore, Mohd Zin should refrain from harshly criticising the cultural practices of non-Muslim communities, and he should not underestimate the noble traditions of Sarawak, which promote diversity and mutual respect. Maintaining an air of arrogance only leads to a harsher fall."
On the allegations of his drinking, Tiong said he challenged Mohd Zin and others to present evidence, rather than spreading baseless rumours including whether or not his (Tiong's) behaviour was considered decent.
Stressing that he was open to feedback from all members of the public, Tiong said he would continue to approach the community with humility and serve the people as he always had been, while being mindful that it was with their trust and support that had made him where he is now. — The Borneo Post