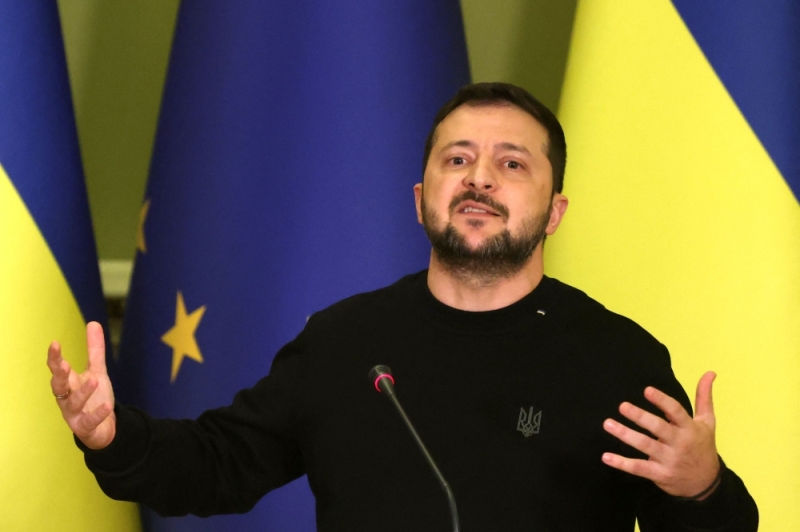 Ukraine's President Volodymyr Zelensky speaks during a joint press conference with European Commission President following their talks in Kyiv on November 4, 2023, amid the Russian invasion of Ukraine. — AFP pic
Join us on our WhatsApp Channel, follow us on Instagram, and receive browser alerts for the latest news you need to know.
Saturday, 04 Nov 2023 10:27 PM MYT
KYIV, Ukraine, Nov 4 — President Volodymyr Zelensky denied today that Ukraine's war with Russia had reached a "stalemate", pushing back at suggestions Western leaders were lobbying for peace talks.
The sprawling frontline between the two warring sides has barely moved in almost a year, with one senior Ukrainian official warning this week that the conflict was deadlocked.
"Time has passed, people are tired… But this is not a stalemate," Zelensky told a press conference in Kyiv with EU Commission chief Ursula von der Leyen.
The Ukrainian leader also rejected the idea Western countries were putting pressure on him to enter negotiations with Russia, amid reports US and EU officials had spoken to Kyiv about what such talks would entail.
Advertisement
"No one among our partners is pressuring us to sit down with Russia, talk to it, and give it something," he said.
With the war now in its 20th month and Ukraine struggling to gain ground in its counteroffensive, Zelensky has routinely met Western leaders in a bid to stave off fatigue with the conflict.
Zelensky said the war between Israel and Hamas had also drawn attention away from Ukraine, and said that this was "Russia's goal".
Advertisement
"Of course, it's clear that the war in the Middle East, this conflict, is taking away the focus," Zelensky said.
"We have already been in very difficult situations when there was almost no focus on Ukraine," he said, but added: "I am absolutely sure we will overcome this challenge."
Ukraine's backers, including the United States, have maintained they are ready to support Kyiv with military and financial support for as long as it takes to defeat Russia. — AFP