Agroecology is a farming approach that capitalises on the natural systems between plants, soil, water, trees, etc in an environment for plant growth
Unlike traditional agriculture with high input and chemical use, agroecology educates small-holding farmers to capitalise on natural systems for maximum output
Meshark Sikuku, an agriculture expert, highlighted the potential of adopting agroecology principles, especially for small-holding farmers in Kenya
An agriculture expert has explained how adopting agroecology principles in the field, especially by small-holding farmers, could lower the cost of living in Kenya.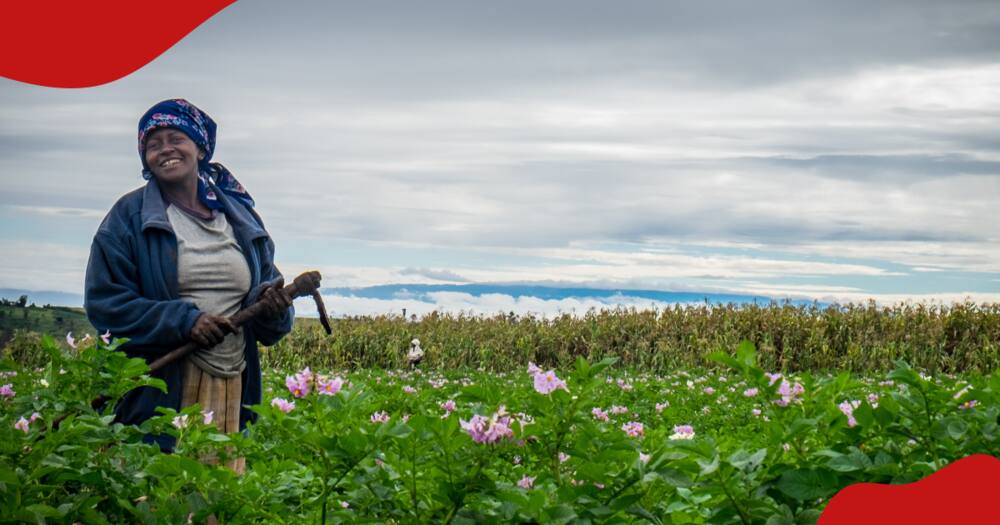 Meshark Sikuku, who has a masters in Agriculture and Development Programmes and a year-long experience in the field, said incorporating agroecological principles in farming is a surefire way of enhancing food security and tackling the climate crisis.
What is agroecology?
The Food and Agriculture Organisation of the United Nations describes agroecology as an integrated approach that applies ecological and social concepts and principles to the design and management of food and agricultural systems.
PAY ATTENTION: Do you have a video that never fails to make you smile? Spread the positivity by sharing it with us via WhatsApp: 0732482690.
"Think of it as using natural processes within the ecological environment to do farming," Sikuku, who is the Ripple Effect's Regional Sustainable Coordinator explained during a media briefing on Wednesday, November 9.
According to him, this farming method seeks to optimise the natural reactions between plants, animals, humans and the environment in food production and animal rearing.
Traditionally, agriculture has been characterised by, among others, high input and use of chemicals.
Still, agroecology seeks to revolutionise the field by educating small-holding farmers on how to capitalise on the natural systems for maximum output.
"Every agroecological principle must first seek to enhance positive interactions between plants, animals, trees, soil, and water in an ecosystem. Secondly, agroecology seeks to build and maintain favourable soil growth," he said.
This farming method aims at reducing dependence on external inputs and maintaining the variance of biodiversity for farm growth.
How agroecology supports climate adaptation
There has been sufficient evidence that shows how the agriculture industry also contributes to the emission of greenhouse gases that lead to climate change.
In 2021, the industry contributed 10% of the emissions that year. In other instances, trees, which are carbon captures, may be cut to make room for farming, which contributes to the climate crisis.
Agroecology supports climate adaptation and resilience due to its reliance on natural systems in the environment, thereby reducing emissions of GHG.
Agroecology includes climate solutions such as composting, agroforestry, and organic soil health management.
According to the agriculture expert, adopting agroecology by small-holding farmers could help lower the dollar rate and subsequently lower the cost of living.
"If we continue to overspend on the external market, we will continue being impacted by the global dynamics as is the current situation. Through agroecology, we are encouraging small-holding farmers to produce not just enough, but sustainably so that they will not have to over-depend on the external market," he told this writer on the sidelines of the Wednesday event.
Sikuku said using agroecological principles, Kenya has the potential to enhance food security and limit importations and thus thrive sustainably.
He urged small-holding farmers to adopt this natural way of farming as it is cheap for them and the best way to fight climate change.
"For instance, farmers should know that they should use chemicals such as pesticides as a last resort because they damage the ecosystem. Pesticides are like a curative measure, while agroecology is a preventive measure. Crops, in fact, have immune systems. Farmers should take care of the soil to ensure they can support plant growth," he said.
Mango exports shipments
In other news, the Agriculture and Food Authority, through the Horticulture Crops Directorate (HCD), warned mango exporters from smuggling avocado exports.
HCD has intensified its scrutiny of mango export shipments in response to the discovery of specific unscrupulous traders attempting to illicitly include concealed avocado fruits within these packages to circumvent a ban on avocados.
Kenya primarily ships fresh mangoes to the Middle East market and limited amounts of processed (dried) fruit to countries like The Netherlands, the UK, and Italy, among others.
PAY ATTENTION: check out news exactly for YOU ➡️ click on "Recommended for you" and enjoy!
Source: TUKO.co.ke